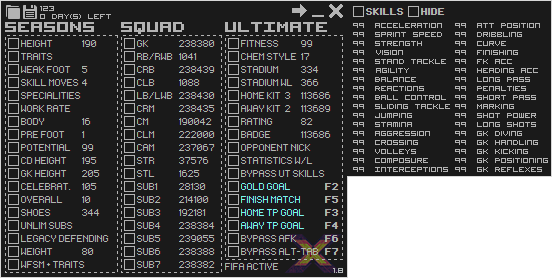 Sales closed
The program is at the final stage of operation, you have the last chance to buy the software before the new version FIFA 19
Program uses a method, that requires you to disable anti-virus (or add exceptions the program) in case of detection, the software may be work incorrectly
Also suggest to turn off Windows defender and monitoring tools
If you are not satisfied, please refrain from buying
All functions must be activated before the game starts, except those with hotkeys
The process of buying and registration:
You pay subscription for the product
After payment, you can download
here
and write me in
pm
(response timeout is 10 min - 24 hours)
Program is licensed to be used on one machine, for one sole user. The licence cannot be transferred on others machines in yours exploitation
before doing anything with your operating system, please email me, otherwise I won't be able to control your changes
In case of change of Hardware ID re-bind cost will be -
10€
(depends on the total purchase amount)
ATTENTION:
It is highly
NOT
recommended to use utilities that can affect the operation of the program. Don't forget to turn off the antivirus. The program may conflict with the antiviruses.
Distribution, copying, hacking, as well as the transfer to third parties barred.
Otherwise, will be take appropriate measures.
All your actions in the game, are made at your own risk.
Author assumes no responsibility for your actions and intentions in the specified game. Be careful, and use wisely.
If you have any problems with the program. Please write me a PM
Last edited: